Your conservatory needs maintenance to keep it looking and functioning at its best. Autumn is the perfect time to take care of some important tasks before the wet and windy weather sets in. Here's a list of conservatory maintenance tasks you can do this autumn to not only ensure your conservatory stands the test of time but also to save you money on potentially expensive repairs down the track.
Clear Gutters & Downpipes of Debris
September and October herald the change of weather. Leaves fall from the trees, debris swirls in the autumn winds and rain turns those leaves to sodden piles that can block your gutters and downpipes. While this may not appear to be a 'big deal' if left unattended, blocked gutters can cause water damage and your roof to leak.
Choose a rain free day to complete this conservatory maintenance task. Remember safety first when climbing ladders and never 'over-reach' as it doesn't take much to overbalance.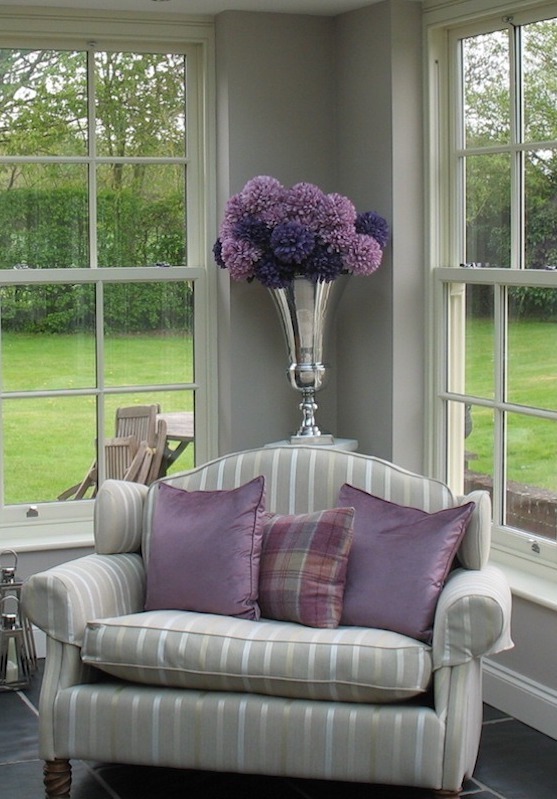 Inspect and Repair any Roof Damage
Autumn is the perfect time to get out the ladders and inspect the integrity of your roof. Whilst it may not be an easy task, it is well worth the effort to protect your home from water damage when snow and heavy rains come over the winter months. Prolonged periods of ice, snow and rain can impact the integrity of your conservatory framework and cause structural damage.
Taking the time to inspect and repair at the very end of summer or at the beginning of autumn gives you peace of mind that your conservatory will stand up to anything the British weather decides to deliver. This is particularly important as weather patterns are changing and extreme temperatures are becoming more regular.
Check Seals and Gaskets
Conservatory maintenance should include a regular check of all glass seals and gaskets. Over time, and fluctuations in temperature, rubber seals and gaskets can become brittle and crack. Unless your seals are completely weathertight, you run the risk of water leaks and more seriously, the chance that panels will fall on occupants in the rooms below.
Regular checks and cleaning will let you know if any seals need to be replaced. If this is necessary, most hardware stores stock the necessary components to reinstate your conservatory's integrity and protection from the weather.
Hinges & Handles
A necessary part of completing your conservatory maintenance is to oil hinges and handles to stop them ceasing and rusting. Wet weather can wreak havoc on moving parts to the point where locks become redundant sparking security issues for your home and family.
Most experts recommend oiling all the hinges and handles in your conservatory twice a year to maintain good working order. A can of WD40 is the perfect choice to oil your hardware and not only keep them squeak free but to provide peace of mind throughout the long winter nights.
Maintain Timber
If your conservatory framework is made from timber, then maintenance is vital to preserve the structure and prevent rot. Fully inspect all timber, including roof timbers, and wash down with sugar soap to remove any and all debris. Touch up any areas where paint or varnish may be missing or thin as wet weather can render your timber framework porous.
This is also the perfect time to ensure your timber framework is treated for UV protection as even though the sun and heat is at its lowest during the winter, the sun can still damage timber.
Wash Down Entire Conservatory
Every conservatory needs a regular bath to keep debris from damaging surfaces. One of the most common causes of frame decay is dirt and debris that sticks and erodes the surface over time. A good wash down with a hose and brush  on a regular basis will ensure your framework is in tip-top condition for year round enjoyment of your conservatory. And of course, there's nothing like sparklingly clean windows to connect you to your garden while protecting you from the elements.
Check For Mould & Damp
Any patches of damp or mould should be treated promptly as a part of your routine conservatory maintenance. Often caused by poor ventilation or significant temperature changes, seemingly insignificant indications of either damp or mould need to be treated effectively before they grow and cause more serious damage.
Increase airflow with the addition of roof windows or install double glazing to help combat the fluctuations in temperature that cause mould to multiply. Not only does mould cause significant damage to surfaces, it is also a health hazard.
Taking a few hours to run through a thorough conservatory maintenance plan gives you peace of mind to know that no matter what the British weather decides to throw at you, you will stay snug, warm and protected this winter.