Interior Design Trends come and go like the wind but there are simple ways to update your home to ensure you don't get left behind. Whether you want a complete makeover or just want to add a few up-to-the-minute touches, here's some of the top trends for 2019.
White On White
People say white never goes out of style and it's certainly one of the biggest Interior Design Trends for 2019. White walls, white furniture, white floors, white bedding … you can't go wrong with white! The ratio rule for 2019 is 90% white with 10% colour. With such a versitile background, it's a great time to embrace simplicity. Add some drama with a colour of your choice and don't be afraid to go bold! 
Concrete Textures
An interresting Interior Design Trend to gain a strong foothold in 2019 is edgy industrial. To bring this look into your home without breaking the bank, add a feature wall with concrete look wallpaper. Combining white with the latest concrete look will give you a modern look that is startling in it's austerity. However, always remember this is just a backdrop to your style and 2019 trends work together to create an eclectic feel that's very pleasing.
 Metal Finishes
Last year we saw a lot of gold being included in interior design and this year, we're seeing a move to include other metals too. Rose gold, copper (which has been around for a while now) and pewter are the latest way to bring some bling! They are the perfect foil for the flat finish that a concrete wall creates and provides an interesting juxtaposition of light reflection.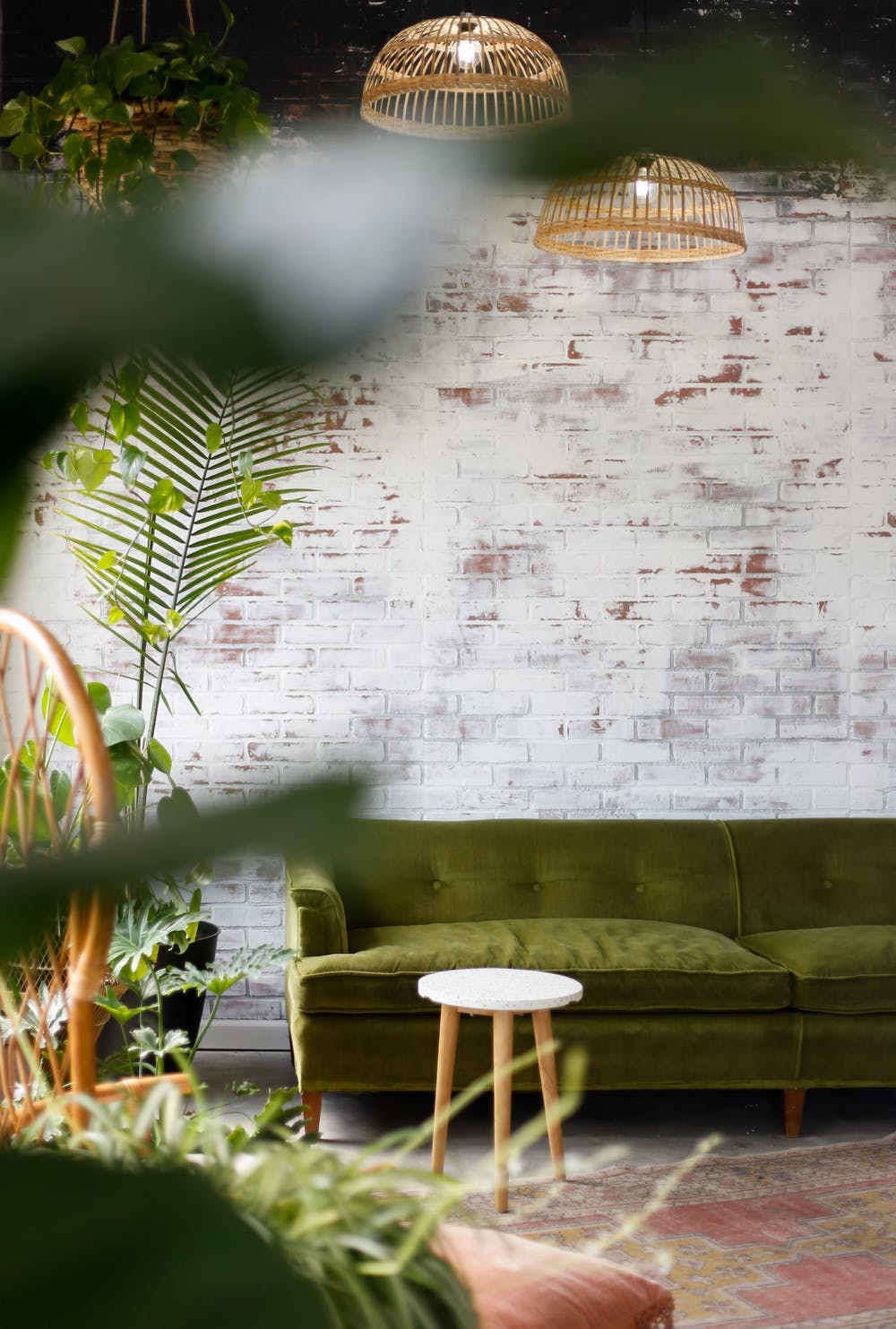 Terrazzo
The revival of Terrazzo is an interesting Interior Design Trend for 2019! It's one of those things you either love or hate, (or love to hate). There is nothing 'shrinking violet' about Terrazzo but there are ways to introduce it in small quanaties that can bring a lot of fun. For a more permanent feature add a splashback to your kitchen or a Terrazzo vinyl to your floor. Or, a simple way to update your interior is with the addition of a wall light or cushion.
Indoor Plants
It's wonderful to see indoor plants making a comeback in 2019. Often seen as 'so 1970', indoor plants add softness, texture and height to our rooms. And of course they also have health benefits because of their oxygen production. Choose plants with dark glossy leaves for maximum impact and don't be afraid to go big. Large pots, tall stems and dramatic foliage are the perfect accessory to a largely white Interior Design Trend. Use them generously in your conservatory, orangery or garden room but don't forget to provide plenty of water over the summer months!
Bold Colour
Rich deep shades of dark green, peacock blue and navy are all the rage in 2019. If you want to create an elegant, 'royal' feel to your interior this winter then this is absolutely the way to go. Choose deep shades in matt fabrics like velvet or velour to really make an inpact. It's vital to consider scale and proportion when choosing deep colours too. The darker the colour, the larger something will look. Dark colours can suck the light our of rooms so use it carefully as an accent to white or to create a snug enveloping space for the perfect winter evening.
To update your conservatory, orangery or garden room this year why not add a metal lantern, a terrazzo cushion or perhaps reupholster a comfy sofa in a deep green velvet. Add some wonderful foliage and settle back knowing your home is making the most of some Interior Design Trends for 2019