When you're considering installing a garden room at your property it's important that you do your research to ensure you are informed about the roof options that are available. As with any building project, there are a number of elements to consider and the choice of roofing material is a big one.
The term garden room can be used to describe a number of different structures from a standard extension to a conservatory or orangery.
Here's a quick overview of the differences between them:
A Conservatory is a structure that usually includes fully clear panels on a wood, uPVC or aluminium frame
A Garden Room is similar to a standard extension but it includes exterior walls that are glazed
An Orangery is similar to a garden room but it also includes an inset glass lantern roof.
Let's take a look at the three main roof options for any garden room.
Polycarbonate Roofing
Polycarbonate is described in the Oxford Dictionary as "a synthetic resin in which the polymer units are linked through carbonate groups, including many moulding materials and films." Polycarbonate roofing is essentially a manufactured product. As a roof option it is:
Benefits:
Lightweight, clear or translucent, abrasion resistant, strong and impact resistant, UV  protection, colour tints, heat and flame resistant and its recyclable
Negatives:
Although it offers some UV protection, maintenance required to keep it looking good, polycarbonate roofing offers no thermal benefits which means the room below is cold in winter and hot in summer, no shade unless fitted with blinds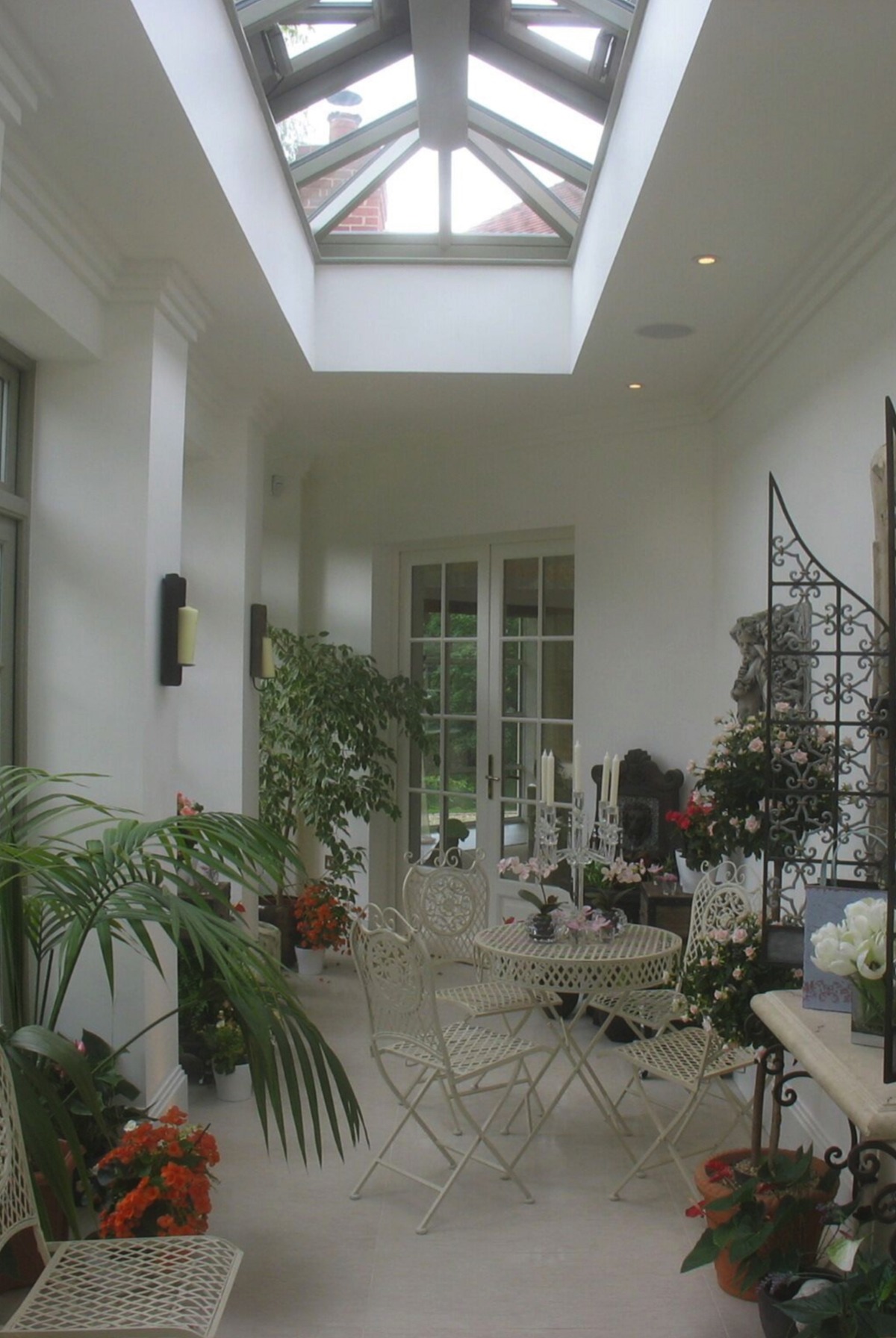 Glass Roofing
Glass has undergone a multitude of changes over the past couple of decades. At one point the differences between glass and polycarbonate were very small but now, glass offers a much wider range of options. As a roof option it is:
Benefits:
Double glazing, triple glazing, colour tinted, full thermal properties to allow lower temperatures in winter to penetrate while pushing away the heat in summer, lightweight, privacy options, can include roof windows for ventilation, clear or translucent for maximum light
Negatives:
Maintenance to keep it looking clean and sparkling, no shade unless fitted with blinds
Solid Roof
Various options are available from a lightweight roof that can replace your existing conservatory roof or be included in the build of a new one, to a full roof similar to the one on your home.
As a roof option it is:
Benefits:
Feels like a 'proper' room, thermally efficient, can be matched to home's existing finishes, can be fitted with skylights and lighting, can be fitted with lantern roof
Negatives:
Reduced light into adjacent rooms (unless fitted with lantern roof or skylights)
Whether you're looking for a conservatory, orangery or solid roof garden room, we can help. Our in-house architect can work with you to ensure that your conservatory, orangery or solid roof garden room is perfect for your home and your lifestyle.