When you're considering installing a garden room at your property it's important that you do your research to ensure you are informed about the roof options that are available. As with any building project, there are a number of elements to consider and the choice of roofing material is a big one.
The term garden room can be used to describe a number of different structures from a standard extension to a conservatory or orangery.
Here's a quick overview of the differences between them:
A Conservatory is a structure that includes fully glazed walls and roof fitted into on a wood, uPVC or aluminium frame. A fully bespoke conservatory is very different from the bog standard ones you've probably seen dotted all over Britain.
A Garden Room is similar to a standard home extension with a solid roof but it includes glazed walls that slide or fold away to provide seamless access to the garden. 
An Orangery is an extension that has glass walls – fixed panels, opening windows and sliding or folding doors – fitted between a solid framework. The most noteable feature of an orangery is the soaring glass lantern roof which is fitted into a solid roofed frame and that floods the space below with natural light.
Let's take a look at the three main roof options for any garden room.
Polycarbonate Roofing
Polycarbonate is described in the Oxford Dictionary as "a synthetic resin in which the polymer units are linked through carbonate groups, including many moulding materials and films." Polycarbonate roofing is a manufactured product.
On the plus side, polycarbonate roofing is lightweight, abrasion resistant, strong and impact resistant, provides UV  protection and is heat and flame resistant.
Available in a clear or transulcent finish and availalbe in colour tints, polycarbonate sheet are also eco friendly and recyclable
However, although it offers some UV protection, polycarbonate roofing requires maintenance to keep it looking good and it offers no thermal benefits. These rooms tend to be cold in winter and hot in summer offering no shade unless blinds are fitted to the underside of the roof panels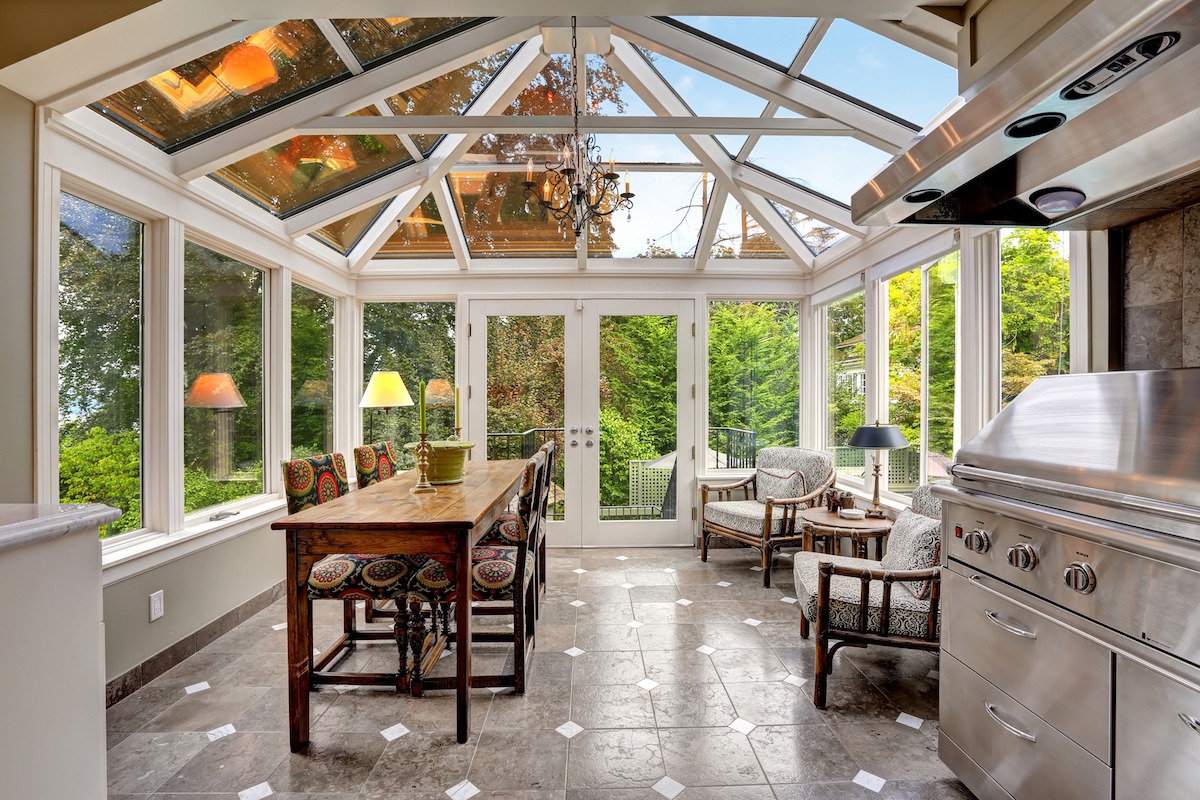 Glass Roofing
Glass has undergone a multitude of changes over the past couple of decades. At one point there was little difference between a glass or a polycarbonate roof but a glazed roof is now a fabulous option that brings tons of natural light into your home.
Available as double glazed, triple glazed, clear, translucent and colour tinted, the full thermal properties allow lower temperature sunshine in winter to penetrate while pushing away the heat in summer.
When used on a conservatory, the glazed panels are fitted into a frame that allows the option of opening roof windows to for ventilation and air circulation.
Of course, just like any other glass surface, a glazed roof will need some maintenance to keep it looking sparkling clean. However, this is a much simpler task than in years gone by thanks to self cleaning glass.
Solid Roof
A solid roof is a great choice as it has all the thermal properties of a 'proper room' and it can be matched to the existing roof on your home for a seamless look.
Lightweight solid roof tiles are also available now as a replacement roof giving you the opportunity to update your existing conservatory for year round use.
One of the most important aspects to consider when thinking about a solid roof, is the impact on light levels in adjacent rooms.
Although glass walls – windows and doors – allows a lot of natural light to enter a room, the angle of the sun means that only  about 2 metres beyond the doors is fully illuminated. Side windows in existing rooms will help to bring the light in, but adding glazed panels into your new garden room roof is the key to lightfilled spaces.
A single story extension can easily include some skylights or even a lantern roof to illuminate the new spaces as well as allowing light to reach the adjacent rooms. With careful planning, it is usually possible to remove at least part of the existing exterior walls so that there is no barrier to light or flow.
***Whether you're looking for a conservatory, orangery or solid roof garden room, we can help. Our in-house architect can work with you to ensure that your conservatory, orangery or solid roof garden room is perfect for your home and your lifestyle.