Roof lanterns are an aesthetically pleasing and practical feature which will add value to your home or business. However, the title can be confusing so you may still be asking; "What is a roof lantern?"
Despite what the term 'roof lantern' might suggest it is not a light fixture that you hang from your ceiling. Unlike a window that is placed in a vertical opening to let light into the spaces beyond, a lantern roof is a glass opening that's placed into the roof allowing maximum illumination into the rooms below.
A roof lantern is not only functional, it's also a stunning piece of architectural detailing that can take your home to a whole new level of fabulousness!
There's a big difference between a skylight and a lantern roof. A skylight is generally fitted into the pitch of the main roof and may or may not have an opening sash. It sits snugly in the roof in a similar way to a window in a wall.
But a roof lantern, is a structure all on its own. It is designed to fit into a flat roof and give the room below more height and light than would be possible with a simple skylight. A lantern roof may take the form of a gable end or hipped roof and is glazed on four sides for maximum illumination.
So how might a roof lantern benefit you?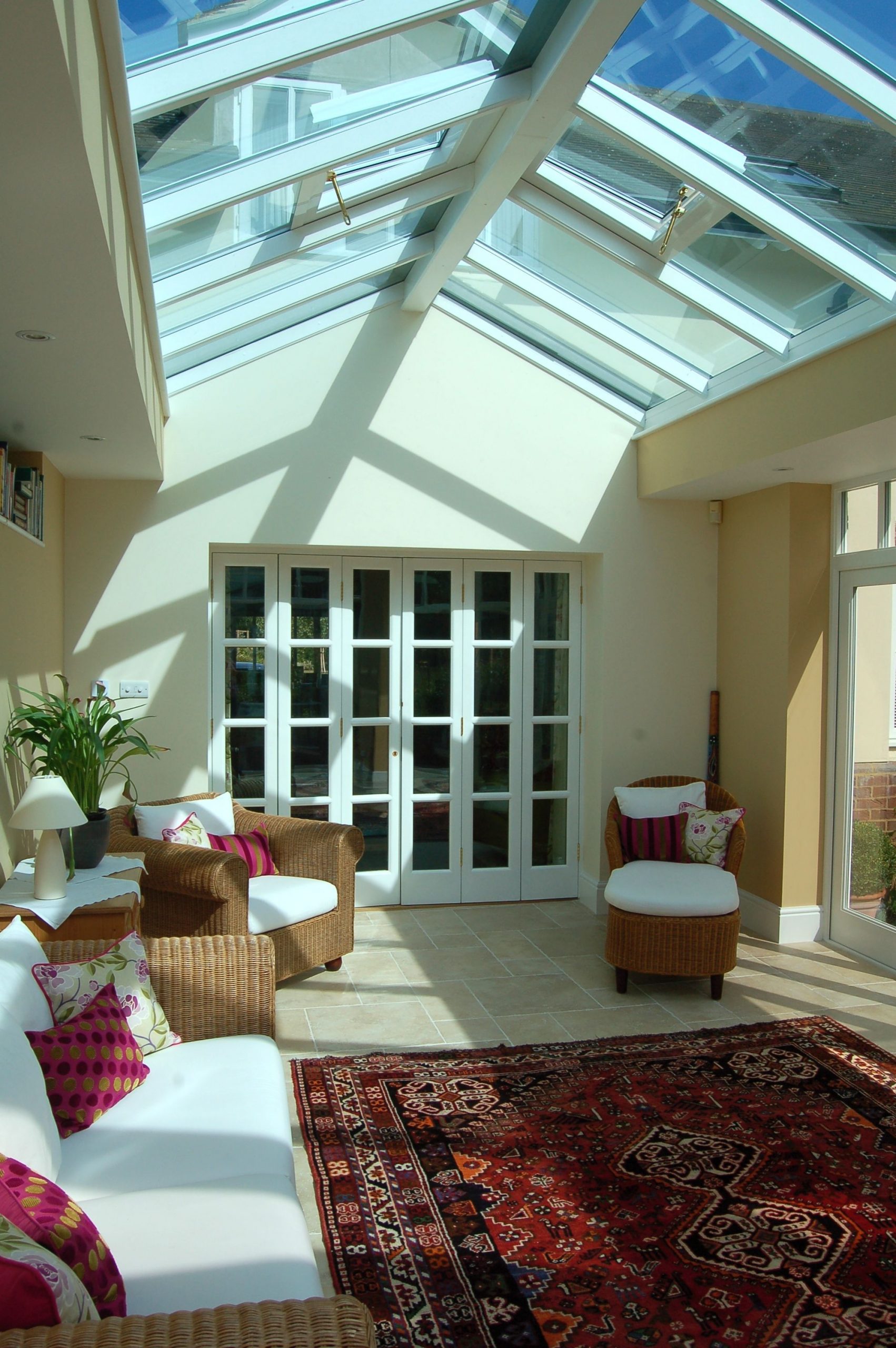 Firstly, and often most importantly, it provides daylight into extensions which would otherwise leave the rooms beyond in need of constant artificial lighting. For example, many people choose to extend their existing kitchen to provide a dining space that provides direct access to the garden. A standard solid roofed extension would leave the kitchen without windows and in semi-darkness. The addition of a roof lantern not only provides a light filled space to enjoy the garden, but the extensive light from the lantern roof also illuminates the rooms beyond.
Secondly, they're just simply stunning! There's just something about the soaring height and the view of the sky that makes you want to hang out in this space every day. In fact, many people spend the majority of their time at home in spaces that have a lantern roof to brighten their day.
Unlike a conservatory that is an almost entirely glassed room, a roof lantern sits within a framework that matches the architecture of your home. With wide piers (pillars) inset with glass doors or windows to suit your lifestyle, the interior walls can be finished to flow seamlessly from other rooms in your home providing continuity of design.
The outside of the supporting structure can also be finished to blend perfectly with your existing surfaces or finished to provide contrast updating the entire look and feel of your home.
A lantern roof is a standard part of our orangery construction and we have created them for properties both young and old. Each orangery is completely bespoke and is designed to add value not only to your home but also to your life.